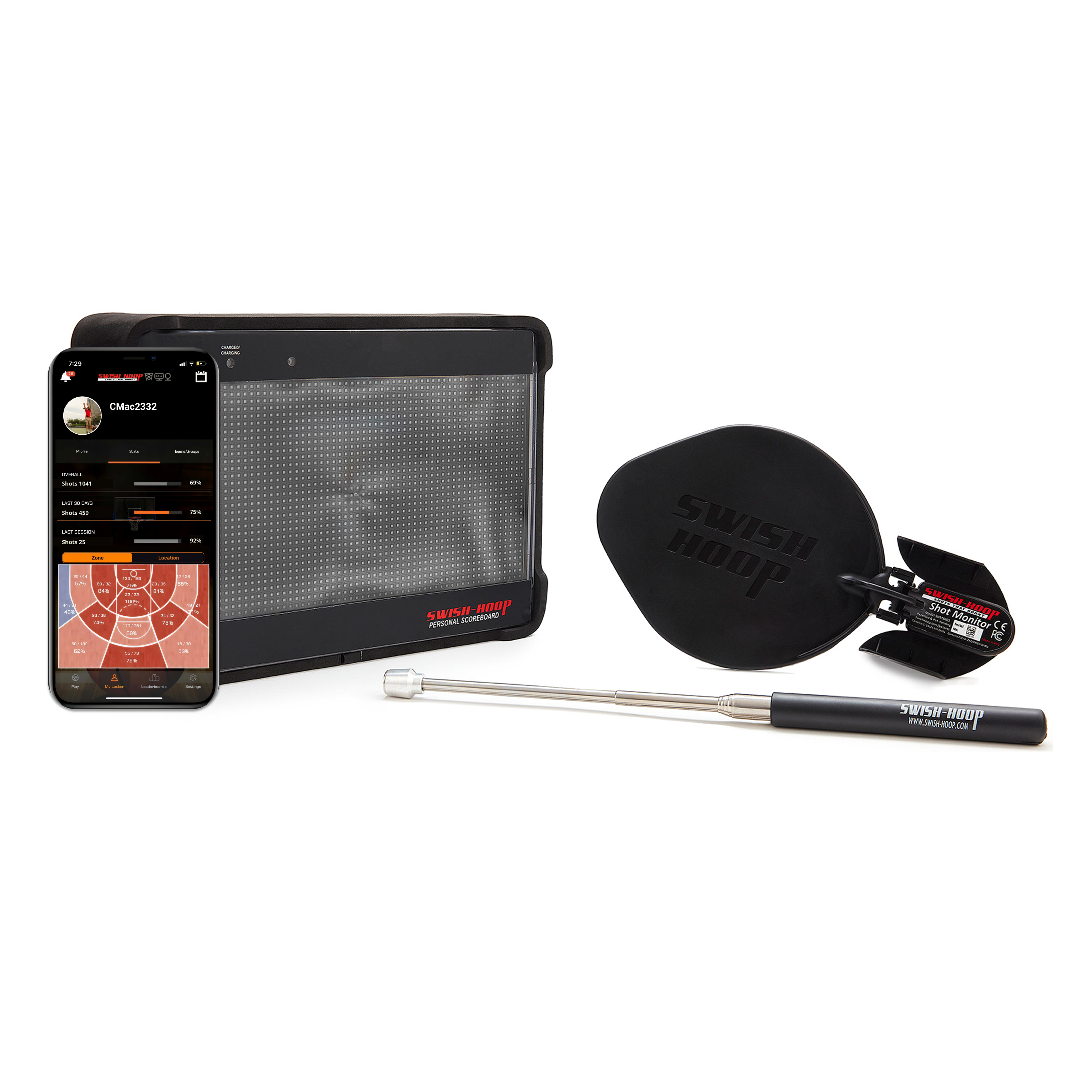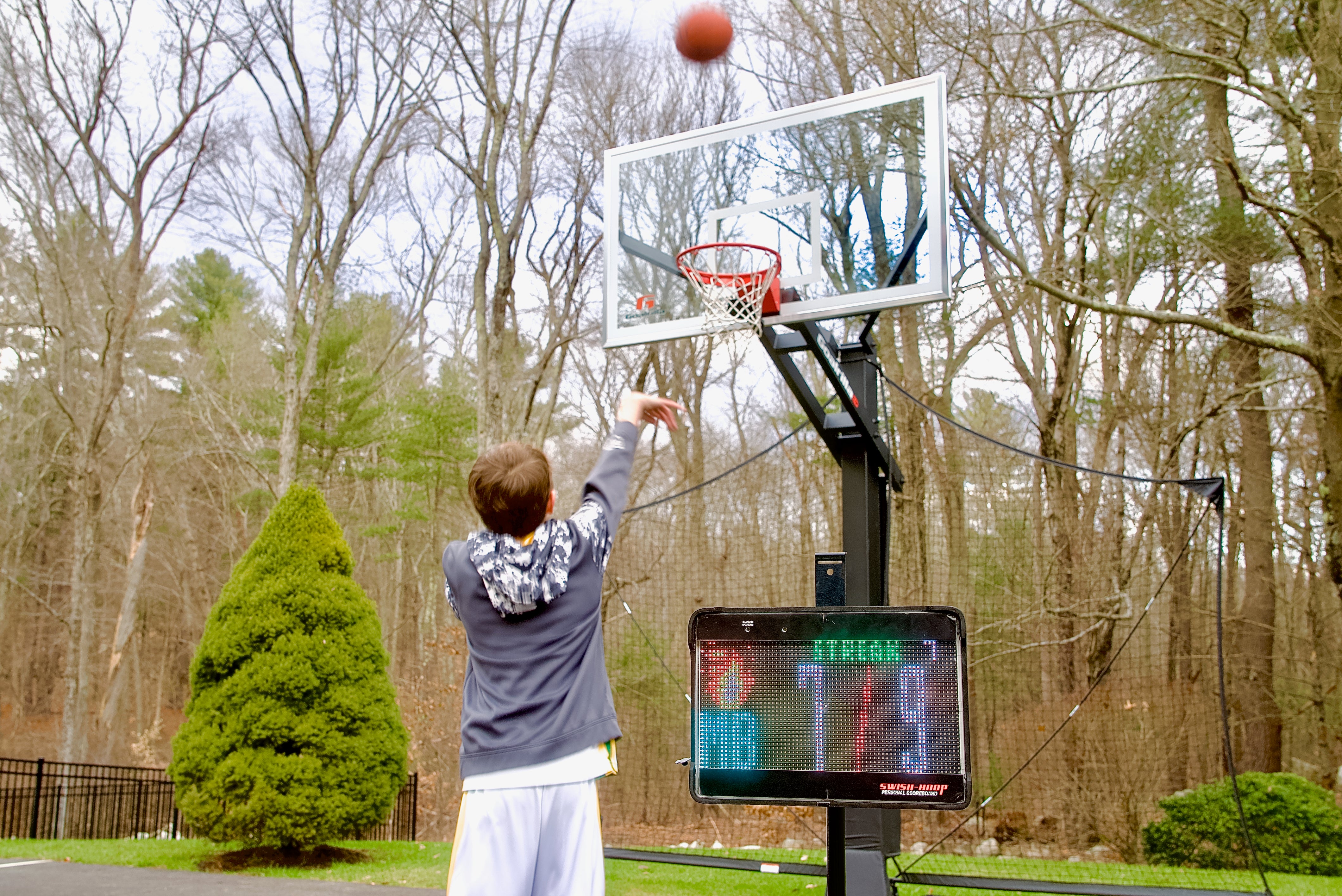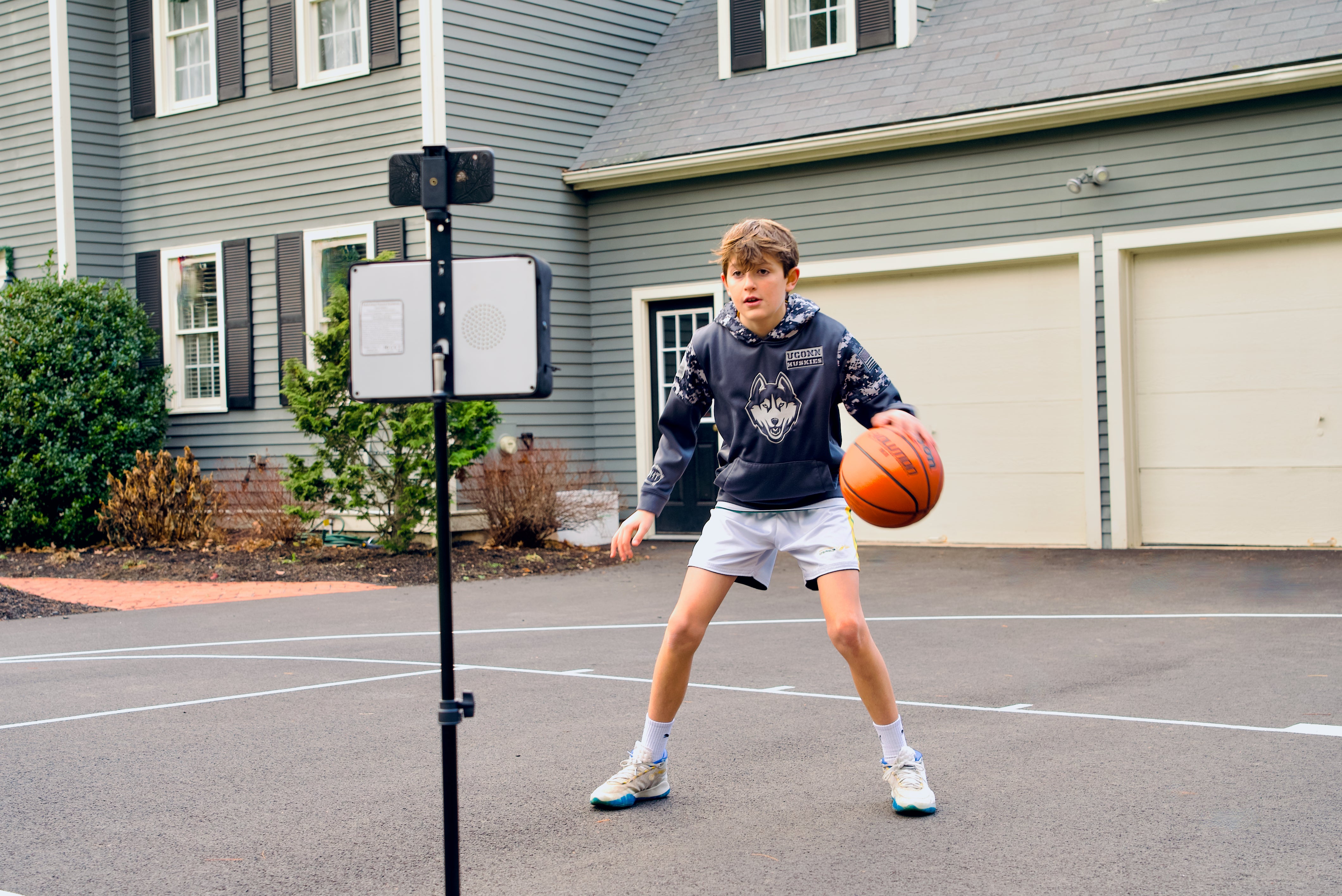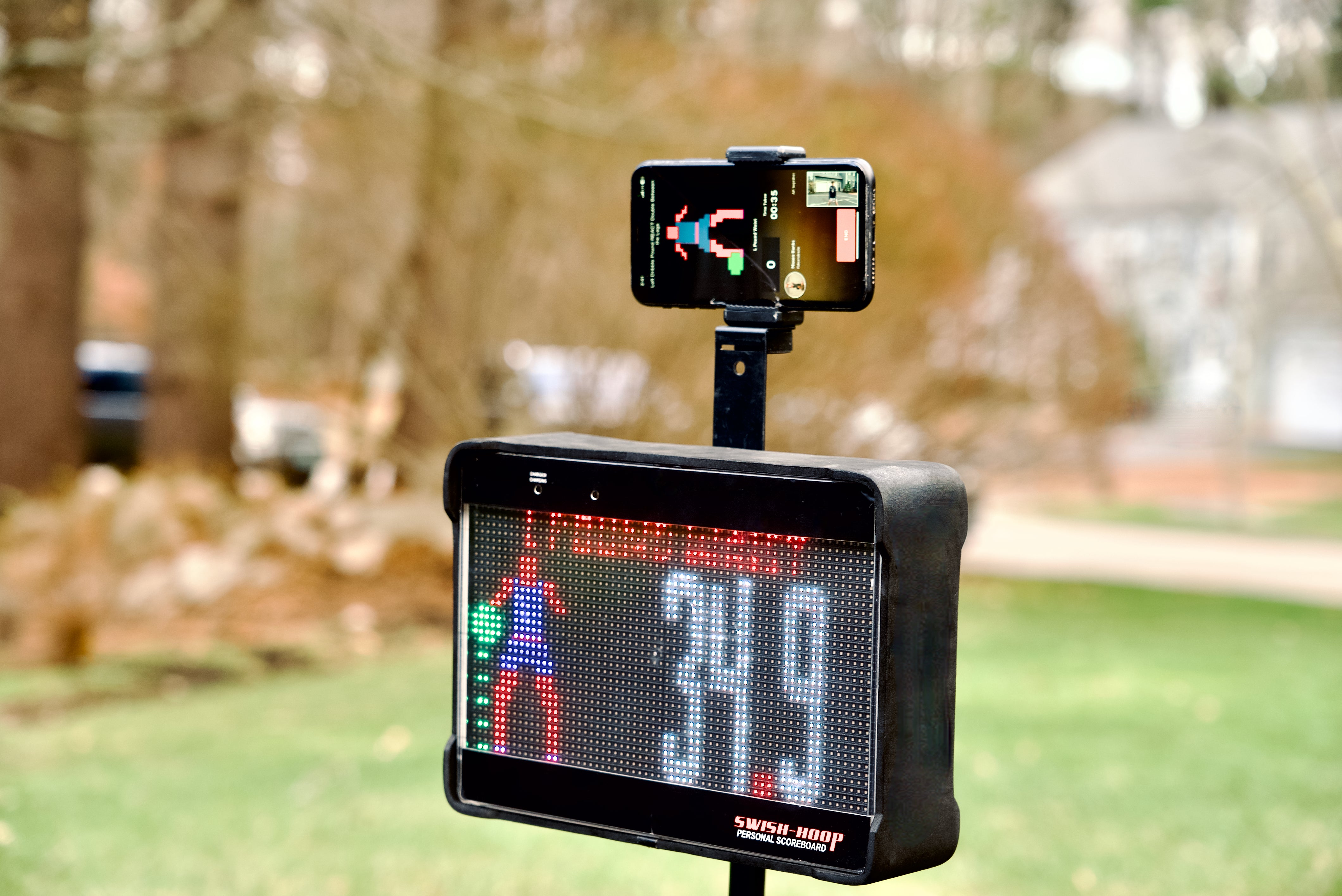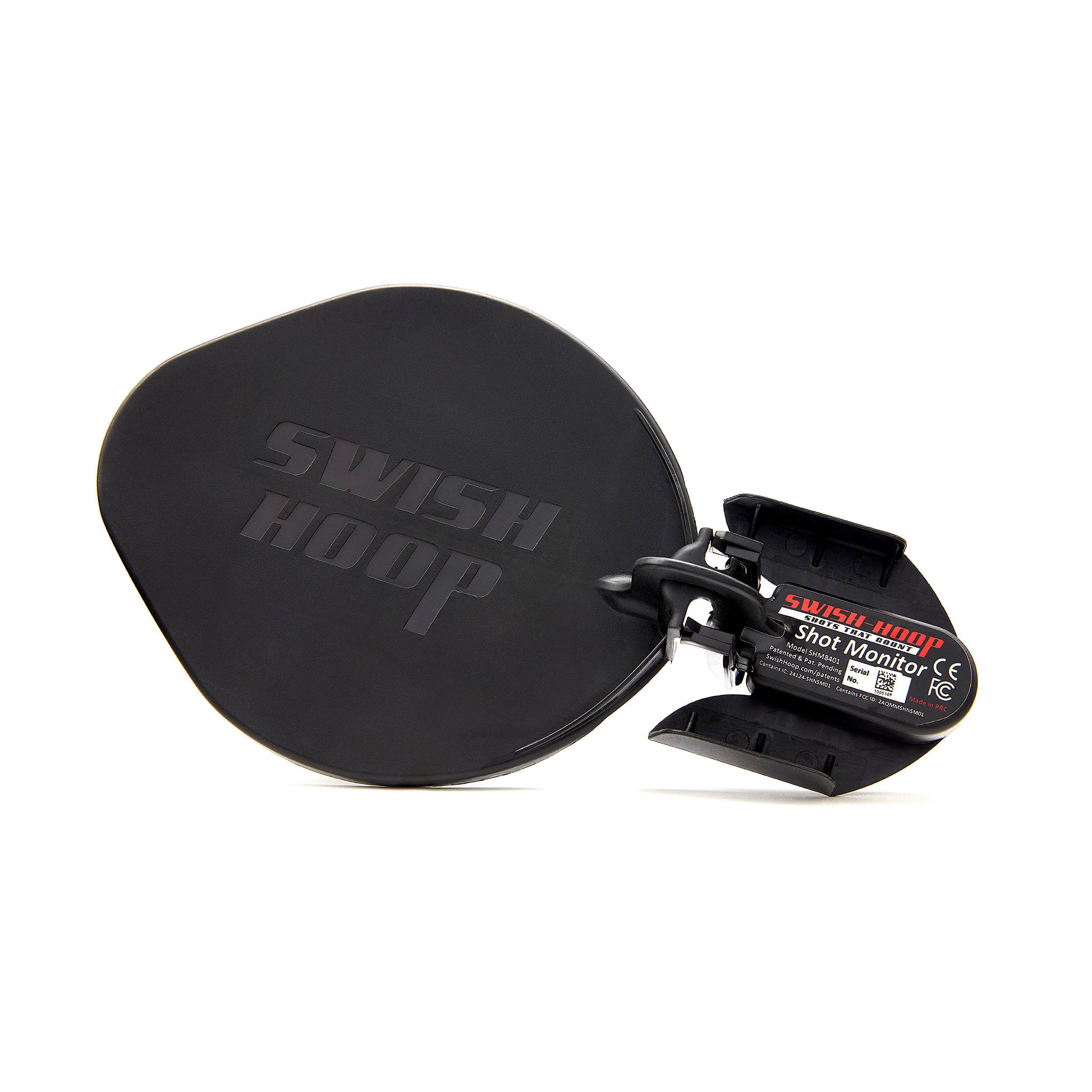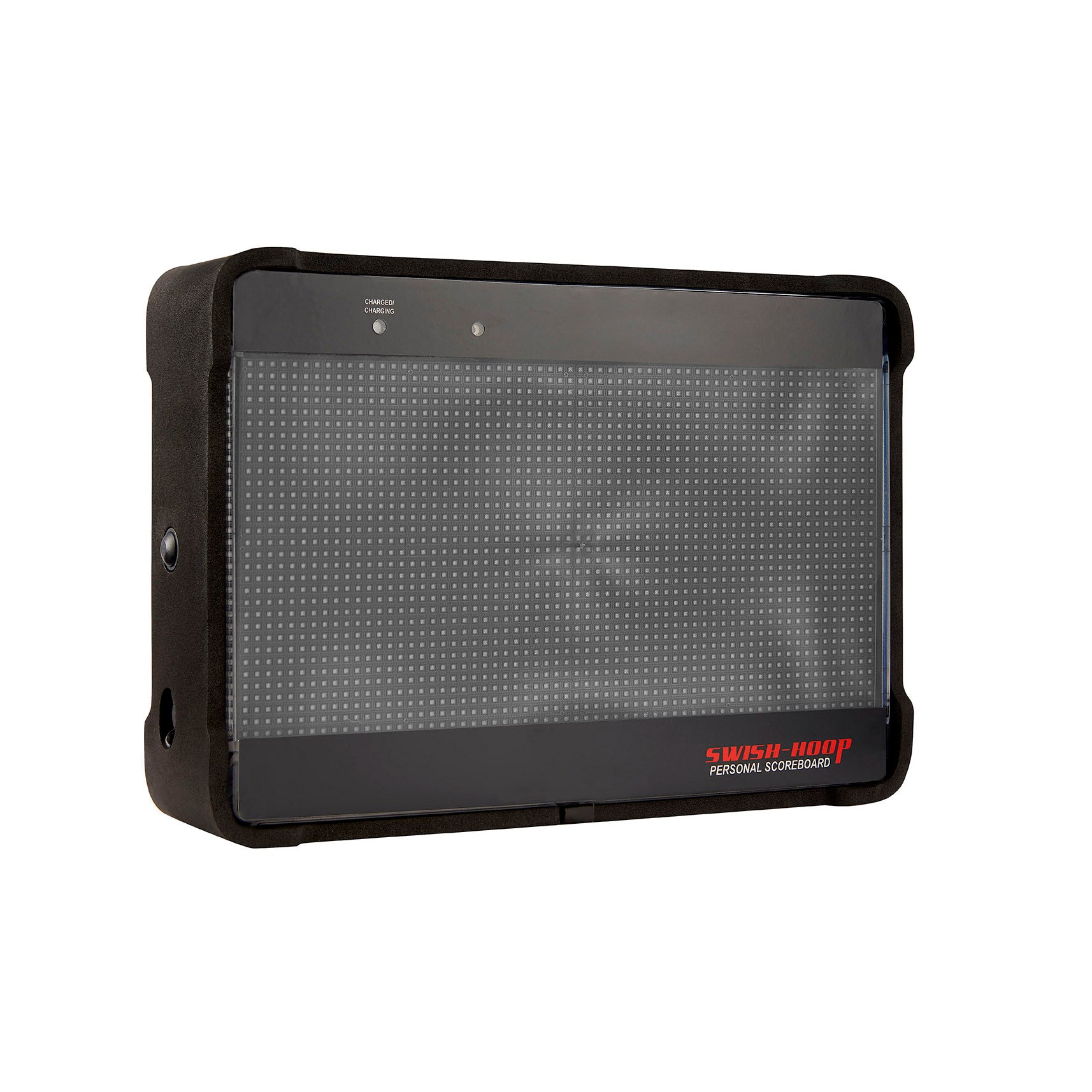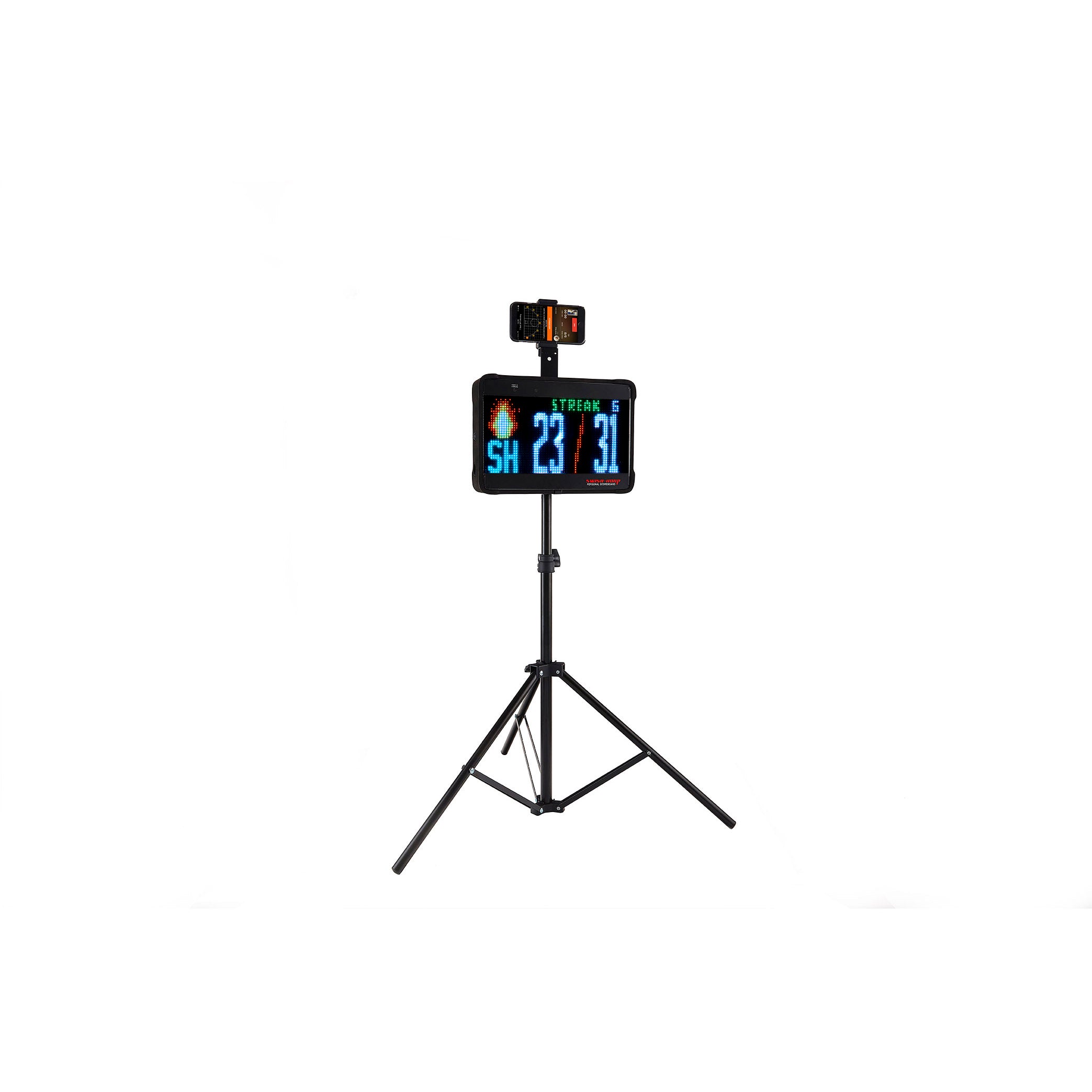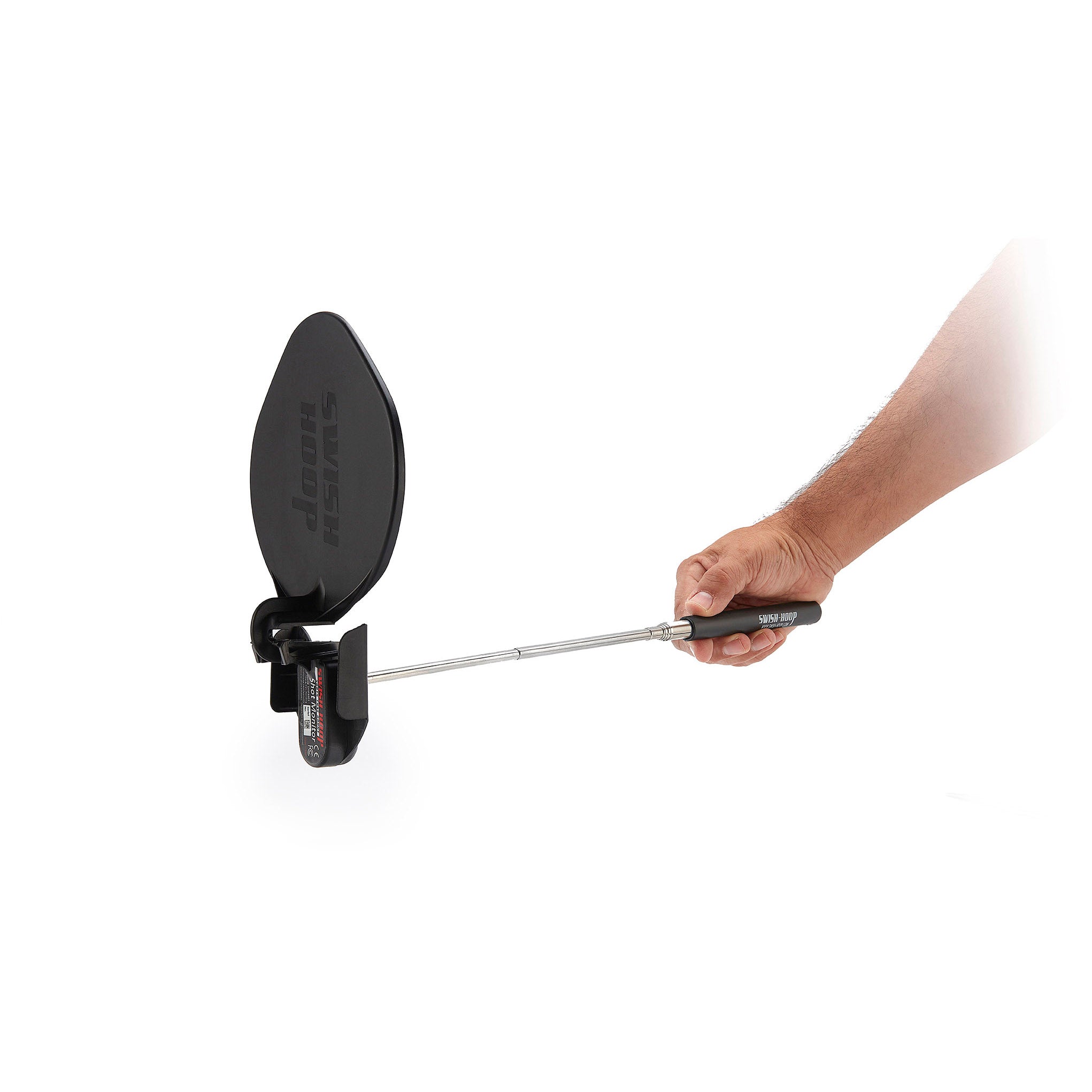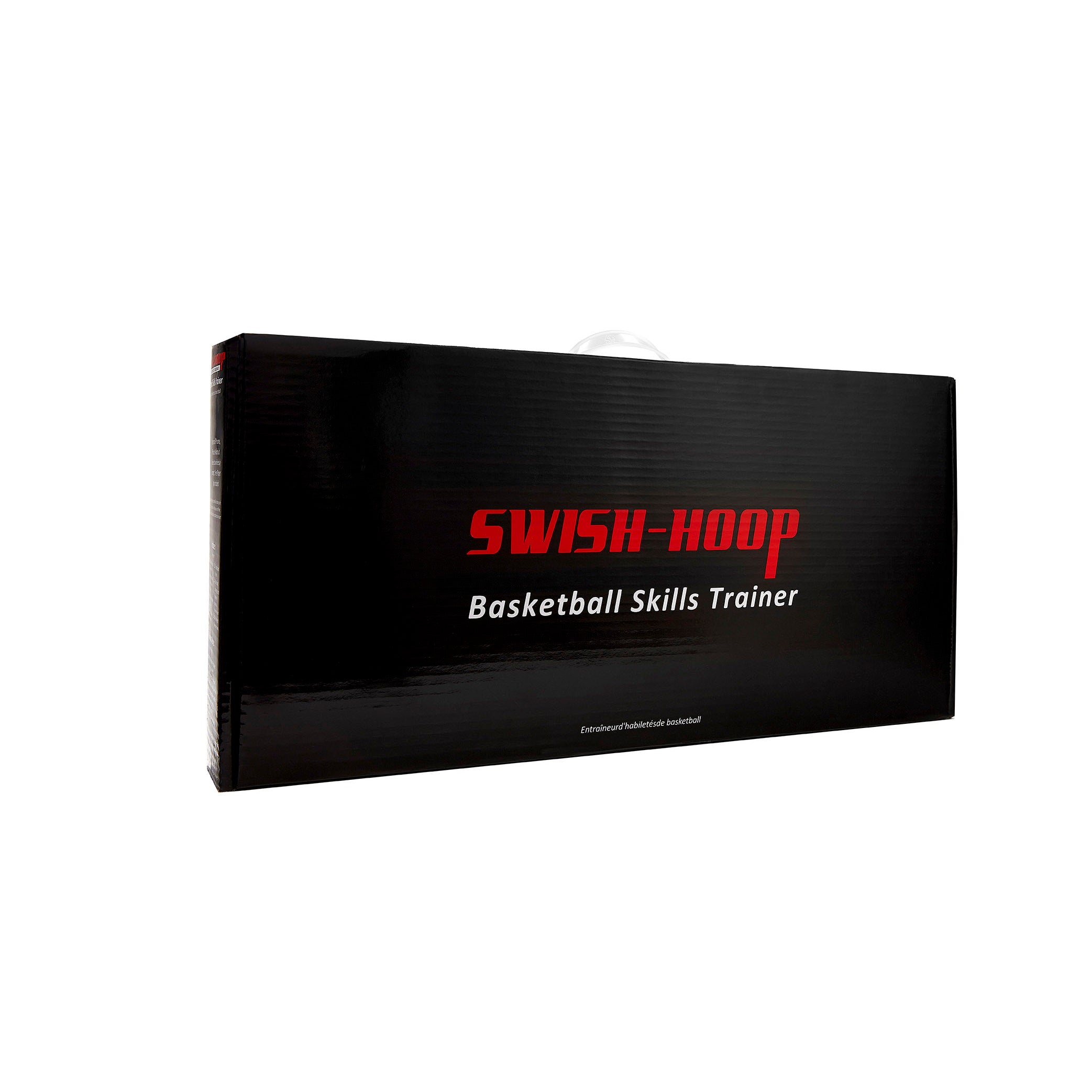 SWISH HOOP® BASKETBALL SKILLS TRAINER
---
The Swish Hoop® Basketball Skills Trainer comes complete with one Swish Hoop® Shot Monitor and one Swish Hoop® Personal Scoreboard, as well as the free iOS and Android mobile app that may be downloaded to your smartphone or tablet. Electronically track your shots and get courtside feedback of your shooting and dribbling workouts in real time.
Coupling the Swish Hoop® Personal Scoreboard with the Swish Hoop® Shot Monitor gives you everything you need to optimize the effectiveness of your workouts. The Personal Scoreboard displays everything you need to know about your workout as you're training in real-time so that you don't have to repeatedly check your phone throughout your sessions. As soon as you click START, the Swish Hoop® Personal Scoreboard can help you stay focused on your training by displaying and sounding the following in real-time:

- From where to shoot on the court
- Your shooting stats
- 'On Fire' 🔥 display when you've hit 3 or more shots in a row
- When you've completed a drill
- Which drill you will transition to next
- Countdown timer for your timed drills
- Who's turn it is to shoot in a multiplayer workout
- Dribbling animation to follow along with during your dribbling drill
- Reaction Buzzer noise to challenge your dribbling speed and control
The Skills Trainer includes:

Swish Hoop® Shot Monitor
Swish Hoop® Personal Scoreboard
Swish-STIC telescoping Shot Monitor attachment pole
Scoreboard tripod stand and bracket for eye-level feedback and better video recording views
Phone holder for mounting your Player App phone camera to record your workouts
Scoreboard wall charger and charging cord
Shot Monitor protective case to withstand frequent travel
Scoreboard padded sleeve for extra protection
Tripod sleeve for convenient travel and storage
Free Swish Hoop® Player App: the mobile basketball training app for iOS or Android devices
Accurately track your shots- Never keep count in your head again
Train like a pro- Over 350 expertly demoed shooting and dribbling drills and workouts to work on specific skills in your game
Own the leaderboards- Compete for that top spot in your community, country and the world
Simple setup- Just clip the monitor onto the net, place the scoreboard and connect the devices to your phone or tablet and start shooting
Swish Hoop network- Compete against, share and train with other players on your team, in your community, or around the world.
For shipping – Ships anywhere in the USA. For international shipping, please contact us at info@swishhoop.com prior to purchasing.
For Return Policy - SWISH-HOOP®️ warrants to the original purchaser that your product shall be free from defects in materials and workmanship under normal use for a period of ninety (90) days from the date of purchase. For full warranty details, please see Terms of Service.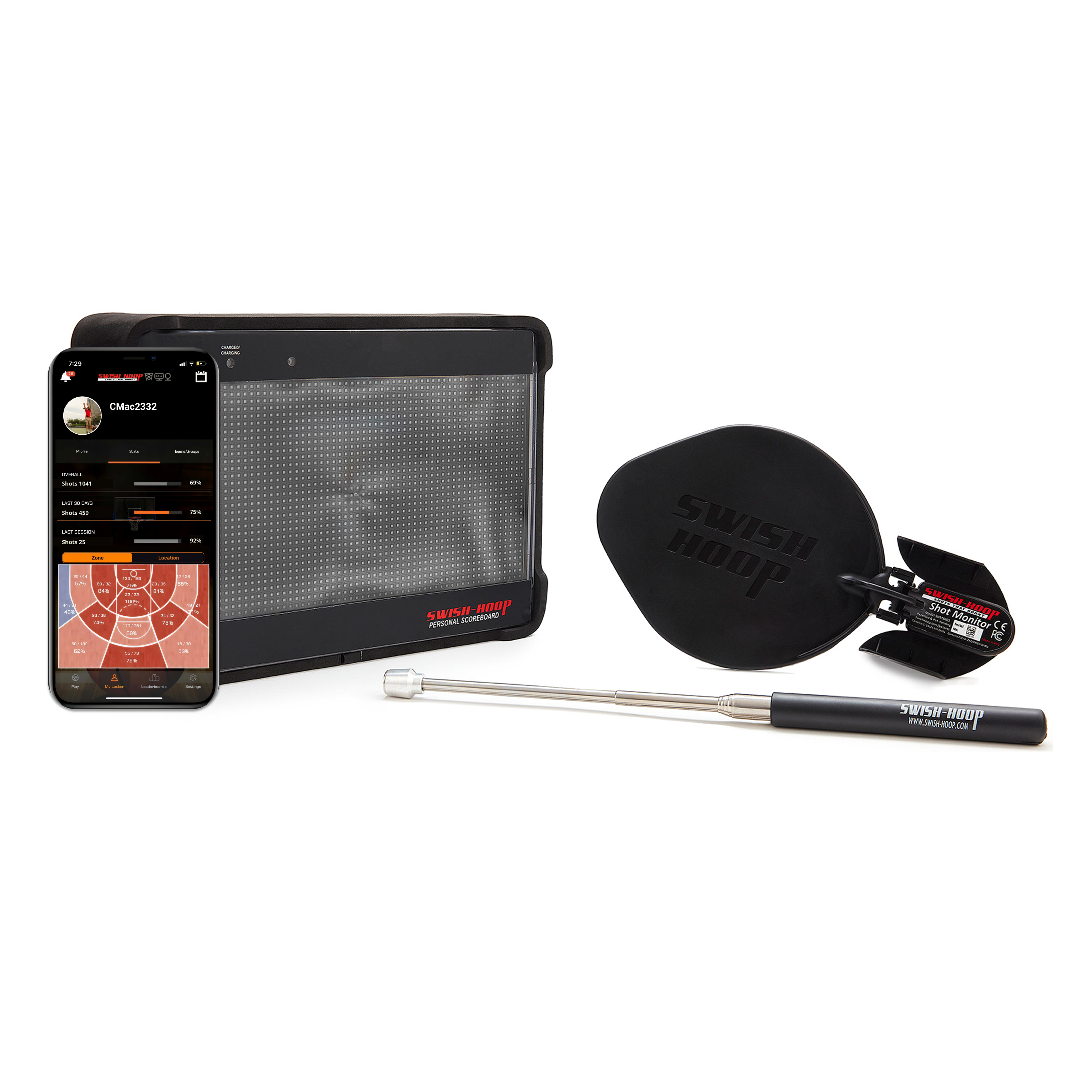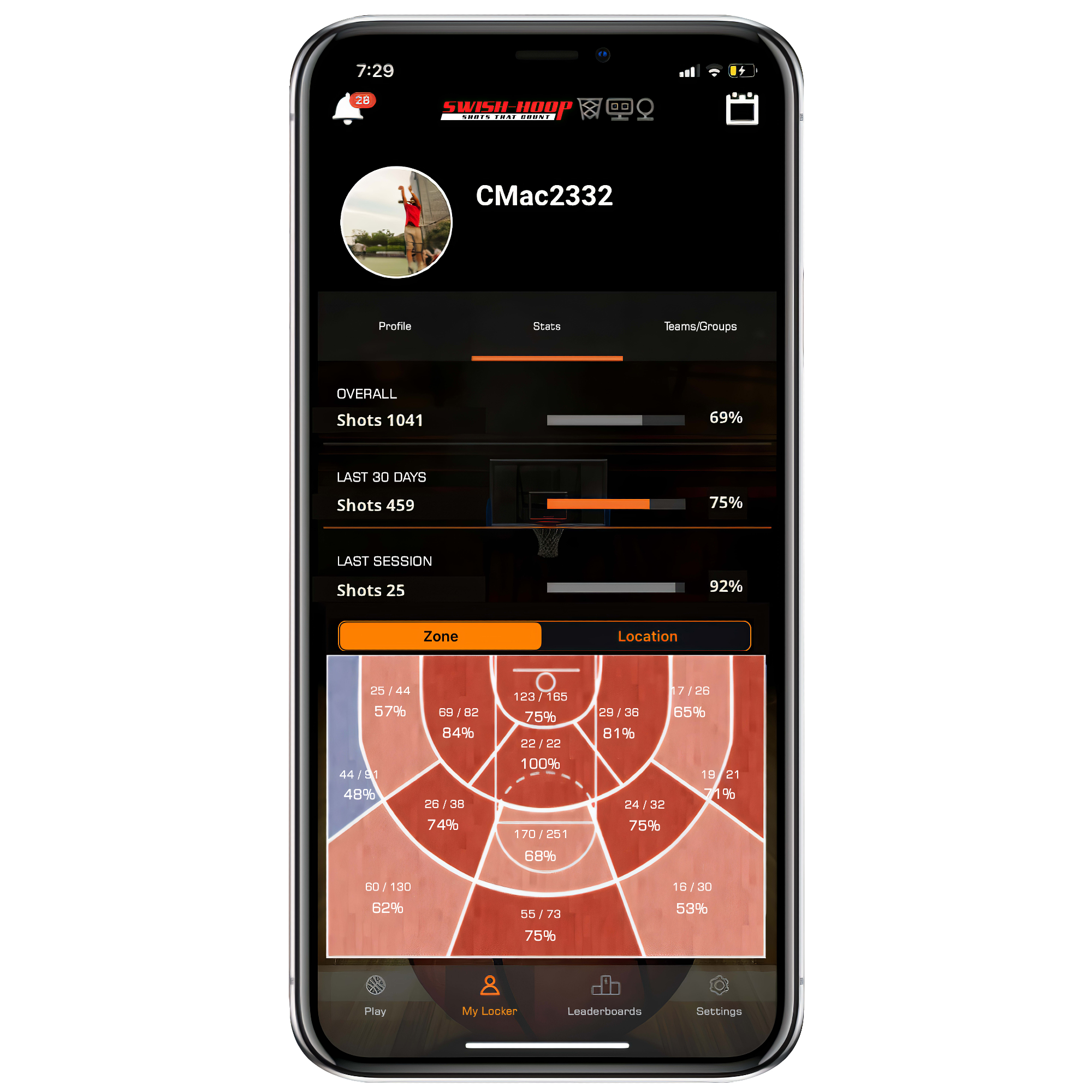 RAISE YOUR PRACTICE. RAISE YOUR GAME.
Never question how you're shooting again. Instantly review your shot chart and videos to get an accurate view of your performance.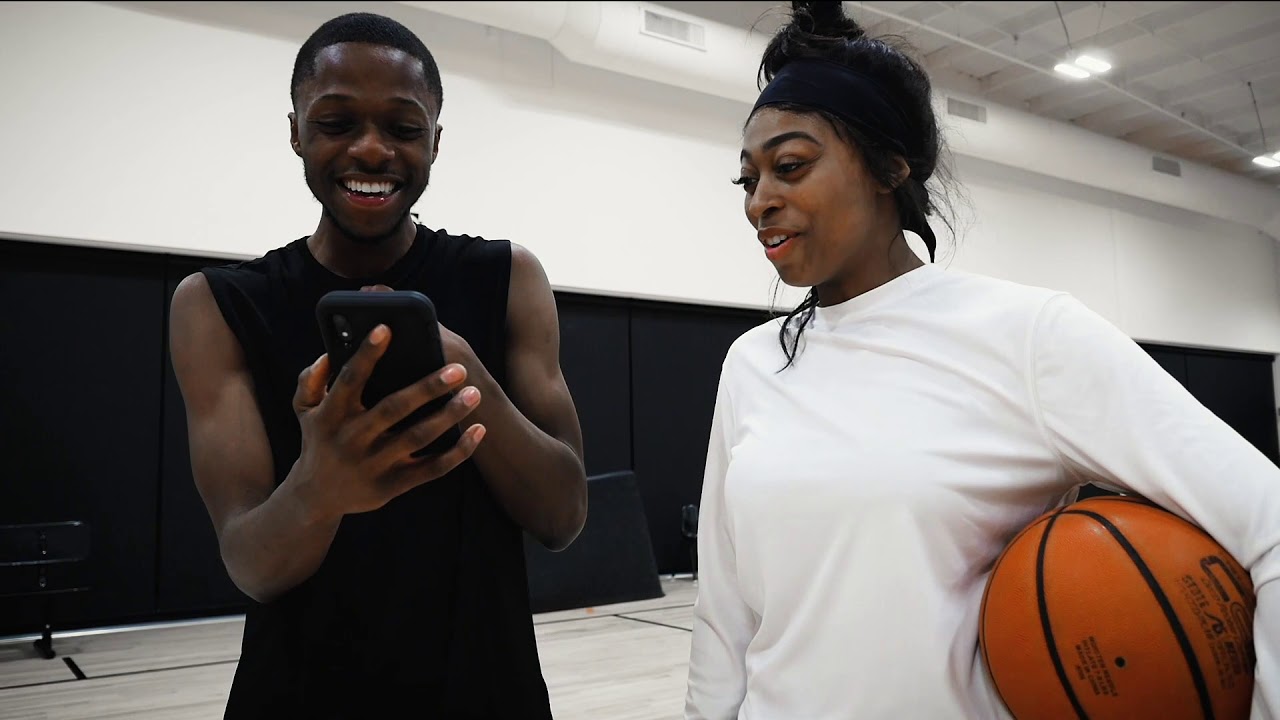 As a shooting coach, the Swish Hoop Shot Monitor helped take my workouts to the next level. This product tracked my players shooting percentage each workout and allowed me to look back at their progress over the weeks. On top of this, the Shot Monitor helped keep my players motivated to want to improve their jumpshot every single day. I highly recommend trainers to make this investment because the product is affordable, easy to use, and will help your players get more game results.
The Swish Hoop system has been a game-changer for my son. He has used it to track thousands of shots, and it has significantly improved his shooting accuracy, while providing goals to strive for. He routinely asks about his shooting percentages after training sets. This focus has translated into his games, where he has become a much better shooter, and his free throw percentages have skyrocketed. Thanks for a great product!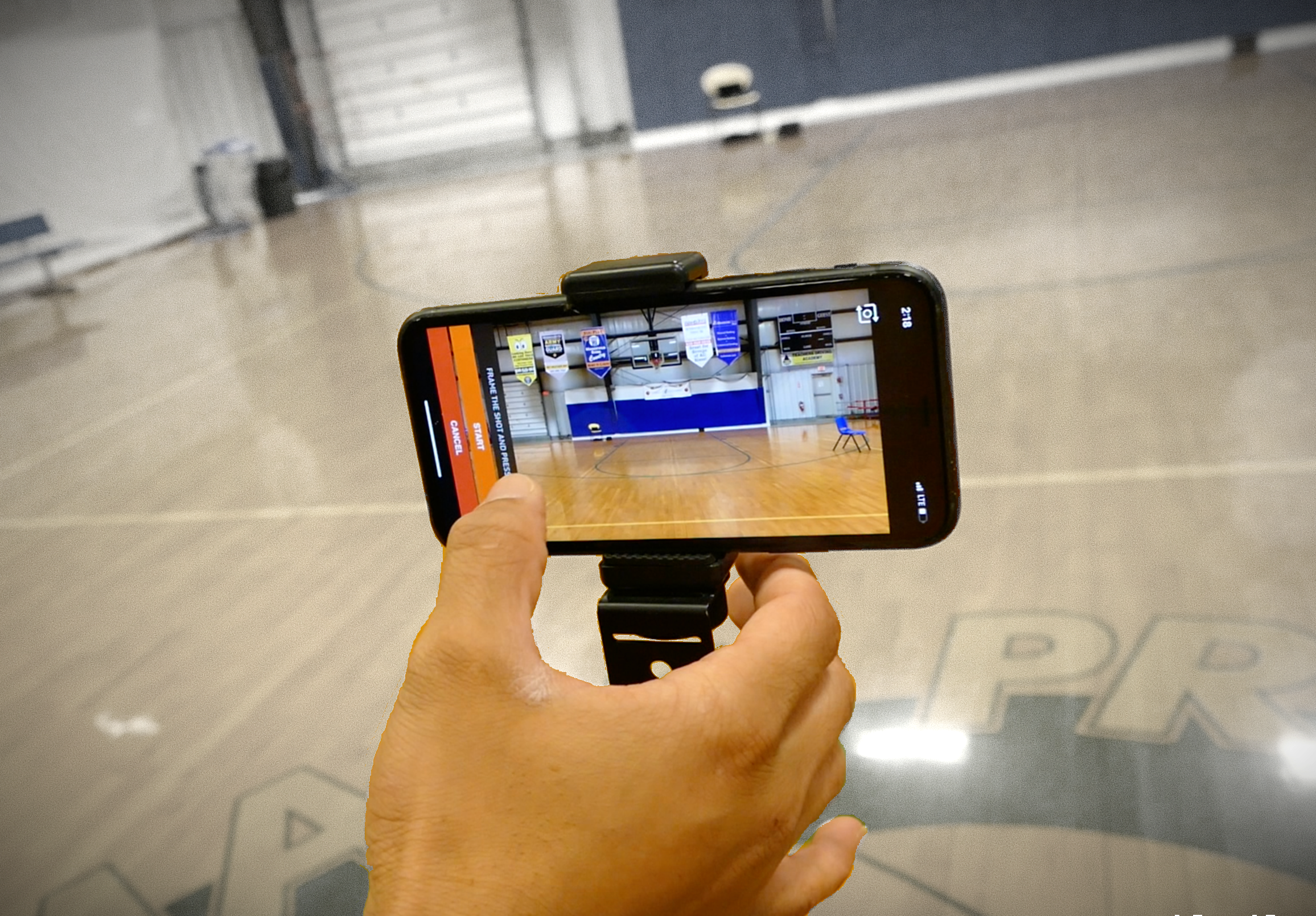 PERKS OF USING SWISH HOOP
Accurately track your shots - Never keep count in your head again 
Track your progress - View your shot chart and workout history to see how you're progressing over time
Train like a pro - Over 350 expertly demoed shooting and dribbling drills and workouts to work on the details of your game 
Up the competition - Compete for that top spot in your community, country and the world 
Level up - Accumulate badges for your hard work and good performance
Simple setup - Just attach, connect and shoot
WHY TRACK YOUR SHOTS?
If you are a player who wants to see major improvement, whether to make the team or to take your game to the next level, the most important time for you to improve is when you're out in the driveway, at the local park or in the gym by yourself. What you do with this time will ultimately determine the type of player you become. Shooting around for an hour or two, just working on whatever shot the ball takes you to next, may not be the most effective way to improve your skills.

A better way is to focus on the specific skills that will help you get to that next level. You can track your progress over time from workout to workout. And you can compete against yourself and other players to maximize the time and effort you're investing. You can take the guessing out of how many shots you make or take, what skills you're building and if the time that you're putting in is actually helping you get better. That's what great shooters do. Great shooters track their shots.